April 20, 2010 07:48 PM PDT

DJ Useo INSPIRED Mashup Special playlist 01-I Love To Move She Did It (Glamour Camp vs Moby vs Crookers) 02-2 Classwars Down (Blackbird vs KMFDM vs Mystery Jets vs Pilooski) 03-Independant Reflux (Comsat Angels vs Defective Audio) 04-Learning To Rock (Pink Floyd vs Burn In Noise) 05-No One Exosted (John Foxx vs Acid Prophecy) 06-Theres No Other Bass (Blur vs Azzido Da Bass) 07-Kamikaze Numbers (The Dead Sexy Inc vs Acid Girls) 08-Operation Kool Thing (Sonic Youth vs Mindsphere) 09-Creepy Booty (Dana Swanson And Nick Ingkatanuwat vs Boltan vs Mightyfools) 10-AmpLive f/ Trackdemics and Micro Jaxson-Gary Is A Robot (DJ Useo Transistor Mix) 11-Autopilot Computer Games (Miss Kittin vs Yellow Magic Orchestra) 12-Man Its So Disco In Here (They Might Be Giants vs Rinkadink) 13-Oye Como Bullacake (Tito Puente Jnr ft India vs Dexplicit) 14-Planet PerfectOrbital (Orbital vs Planet Perfecto) 15-Vertigo People Are Strange (Doors vs U2 vs Skitzofrenix vs Marcel Woods) 16-Shine Times Two (Collective Soul vs Booty Luv) 17-Mind Of A Speaker (Visage vs Fanatic & Jaime)* 18-The Sound Of Bostich (Falco vs Yello)* 19-Im A Sexeater (Berlin vs Dubatech)* 20-QuadraSand (Blackbird vs Quadra)* 21-Policy Of Crookers (Depeche Mode vs Crookers)* 22-Kinky Jingo (Happy Mondays vs Fatboy Slim)* 23-500 Basslines (The Proclaimers vs AC Slater)* 24-Oh Yeah Wood Guitar (YELLo vs Poi Dog Pondering) 25-Silk Skin Cycles (Wire vs Lazonby) 26-Women Respond To History (XTC vs Renegade Soundwave vs Frank Ti-Aya vs Yardi Don) 27-Makin' Fun Of Bongos,Bleeps And Basslines (Too Much Joy vs Zero DB) 28-Dominator And Submission (Human Resource vs Blue Oyster Cult) 29-Poison Kryptonite (3 Doors Down vs The Prodigy) 30-Enlightened Mother Of Tainted God (Mahjong Connection f/ Keplero vs Close Lobsters vs Astral Projection) 31-Nothing Aguas De Parco Wrong (Red Lorry Yellow Lorry vs Crookers) UNRELEASED EXCLUSIVES-* Extra Link For Those Who Require That. http://www.divshare.com/direct/11098056-3de.mp3">Download </a
February 03, 2010 09:43 PM PST

DJ Useo-MashRockPod - All Rock Mashups Podcast Playlist- -------------- 01-DJ Lobsterdust-Smells Like Funky Music (Wild Cherry vs. Nirvana) 02-DJ Magnet-Hives Wedding (Hives vs Billy Idol vs Martin Solveig) 03-ThC-Rock n Roll Ignorance (Oasis vs Paramore) 04-DJ Schmolli-Further Shit (Marilyn Manson vs Snitch Bros.) 05-Dan Mei-Perfect Sober Insanity (Radio Edit) (Pink Vs Disturbed) 06-Marc Johnce-Double Flashback Vision (Calvin Harris Vs. Foreigner) 07-Voicedude-Fly Away To Heaven (Led Zeppelin vs Lenny Kravitz) 08-DJ Moule-Give This Way (Aerosmith-Run DMC vs Red Hot Chili Peppers vs Chemical Brothers f/ Otis Redding) 09-G3rst-Hey Man, Nice Diamond (Filter vs Klint) 10-DJ Prince-Who Is Baba O'Riley? 11-ToToM-Longest Disco Song Ever (Foo Fighters vs Vitalic) 12-The Kleptones-Welcome Back (ELP vs Guns n Roses vs Chemical Bros) 13-Cervin-Gimme Battle (Rolling Stones vs Model 500 vs Kraftwerk) 14-Aggro1™-Stone Temple Pilots v. The Prodigy (Nite Version) 15-DJ Le Clown/Black Strobe-Rocknrolla 16-DJ Useo-Smack My Animals Up (Nickelback vs Prodigy) 17-Zonamix (aka Fermix)-Thin Lizzy vs CCR vs BEP 18-[MMM] MadMixMustang-I Got More Than A Feeling (LongVersion) (Bep vs Boston) 19-mARKYbOY-Dont Stop Believe In A Thing Called Blue (Journey vs Darkness) 20-DJ Morgoth-Any Way You Want My Woman (Wolfmother & MSTRKRFT vs. Journey 21-DJ Zebra-I'm A Fireman (Spencer Davis Group vs Prodigy vs Beastie Boys vs Rolling Stones) 22-LASSO THE MOOn-Spaceman On Fire (Killers vs.T-Rex) 23-Colatron-God In The Mirror (Eric Clapton vs Michael Jackson) Extra Link For Thse Who Require it- Download
October 16, 2009 07:36 PM PDT

Thanks for all the kind invites. Glad you are enjoying the shows. Here's a new one with all new mashups. Thanks to the mixers & artists. Day Of The Podcast w/ DJ Useo Playlist 01-DJ Newlight-Popiholla Catch (Kosheen vs Chicane) 02-Soulsearcher- Can't Get Enough (Winkar Lopez Remix) 03-DJ Moule-Heard My Way Through The 80's (Calvin Harris vs Marvin Gaye Vs Lenny Kravitz) 04-Party Ben-Satisfaction Skank (Party Ben's version) (Rolling Stones vs Fatboy Slim) 05-Marc Johnce-Automatic Divine (Sebastien Tellier vs Jay Jay Johanson vs Roger Sanchez f/ Lisa Pure) 06-Fidget Freeman-Mad Freak Run Y'all (Jackinori vs Scott Cooper) 07-DJ Spider-Release Lola (Shapeshifters vs. Agnes) 08-DJ Magnet-Hives Wedding (Billy Idol vs the Hives vs Martin Solveig) 09-The Homogenicchaos-Boy! You Know The Love On My Mind (Freemasons vs Alanis Morrisette vs Beyonce vs David Guetta vs Everlast) 10-DJ Morgoth-Du Hast Mich Again (The Chemical Brothers vs. Rammstein) 11-Guv'Nor-Beastie Beats (Beastie Boys vs Chemical Brothers) 12-DJ Useo-Balls In The Air (The Metal Pixies vs Na-Goyah) (Unreleased) 13-ToTom-Smells like 2 Songs (Nirvana vs Blur) 14-Voicedude-Disco Burning (Extended Version) 15-DJ Earworm-Beautiful Mashup (Sean Kingston vs DJ Earworm) 16-DJ Le Clown-Middle Of The Line (Gainsbourg vs The Dodoz) 17-mARKYbOY-Stop! In the Name of Heartache (Bonnie Tyler vs Supremes) 18-DJ Useo-Make Me Suffer (Tears For Fears vs Daz The Dominant) Here's an extra link for those who like that.- Download 1
July 24, 2009 11:51 PM PDT

Please enjoy this all-Mashup Comp show
where I am joined by special guest co-host DJ Secretary.
DJ Useo-World's Greatest Mashups Podcast

-------------
01-DJ Magnet-My Best Friends Insane
(The Cars vs Cypress Hill)
SUMMER BOOTY 2009
02-DJ Riko-P-Funk Is Playing At My House
(Featuring Gerald A. and Katie Enlow)
Mashups Ahoy! (Vol. 1)
03-UNRELEASED EXCLUSIVE-Guvnor-Heat Riddim
(General Levy vs Dancehall Riddims)
SuS Reggaeton Comp
04-Electrosound-Who's Zooming The Who
(The Who vs Aretha Franklin vs Lily Allen)
Bootstock
05-The Kids-Five Song (Song of Five) (McSleazy Remix)
Muppet Mashup www.djbc.net/muppetmashup
06-DJ Useo & The Useoettes-See Emily Keep Da Vibe Alive
(Pink Floyd vs Riot 303 vs Observer)
Intense Psychedelia 2 : Intensified Mashups
07-Beatles Remixers Group-Rock and Roll Birthday
(Beatles vs Beatles)
Tuned To A Natural E vol.6
08-[MMM] MadMixMustang-Relax (Mika vs FGTH)
Tales From Bootleg Oceans (1st Chapter)
09-Eamezey-Say It James
Wine Gums. Envy. Pieces of Rainbow.
10-World Famous Audio Hacker-If U Seek Lucretia
(Britney Spears vs Sisters Of Mercy)
It's Britney, Mixed!
11-Elocnep-Everyone's At The Girls
(Lily Allen vs Calvin Harris)
It's Not You, It's Us
12-Ben Double M-Sail and Hurt
(Christina Aguilera vs Armin Van Buuren)
BELGABOOTLEGS UPTEMPO VOL 3 TRANCE Ed.(mix1)
13-UNRELEASED EXCLUSIVE-DJ Useo-
All You Ever Think About Is Sexy Boy
(Sparks vs Air)
Sparks For Sparks' Sake:A Bootleg Tribute To Sparks
14-Dj MashUP-I Kissed An Odysee (Katy Perry vs Scarf)
Best of Dj MashUP: Summer Smash '09djmashupxdv.blogspot.com
15-ToToM-Pigs Must March! (NIN vs Prodigy)
Bootleggers Must Die!
16-Fissunix-Womanizer in Madrid
(Espagne / Armik vs. Britney Spears)
Foolklegs II : Around The WorldBootleg
15-DJ Newlight-Sex,Bhangra & Rock 'n' Roll(Krid P vs Brooklyn Bounce)
The Institute Of Bootleggers Presents Vol.1
16-RIAA-Makin The Love Scene (Tony Bennett vs Tom Tom Club)
Sounds for The Swing-Set!! www.m-1.us
17-D.M.F. (Dan Mei & Marc Johnce)-Land Of Stupid
[Pet Shop Boys Vs Genesis]
Bootrospective: A DMF Tribute To The Pet Shop Boys
http://dangermashups.wordpress.com
18-mARKYbOY-Bernadette, Whatever!
The Odd Coupling
19-ToToM-I Can't Stand Along the Watchtower
(Bob Dylan vs The Police)
Dylan Mashed
20-BigBadBaz-I Want Your Wonderwall (Oasis vs Jackson 5)
Jackson vs Oasis http://www.last.fm/music/BigBadBaz
21-G4gorilla+ CjR Mix-I've Given Up On Single Ladies
(Beyonce vs Linkin Park)
Sounds From A New World...
20-Sfreeman-Know How To Jack (Young MC vs Lars Morston)
The Freeman : The First Six Months
-------------------------
Extra download link for those who require it-
http://www.megaupload.com/?d=MU7HTU2D
May 01, 2009 11:11 PM PDT

Hey Everybody-I know how busy we all can get, so I picked only the shortest mashups I could find.
DJ Useo Short Attention Span Podcast Playlist ------------------ 01-Multi-Genre Mix 2007 (as'st)-DJ Choyce Kutz 02-Paper Calypso (Genesis vs Tito Puente) -Virtual DJ 03-This Old Cha Cha Cha(Serge Gainsbourg vs The Isley Brothers) - Bangers 04-Will-i-Am vs Shocking Blue -Frogthedawg 05-Tequila Lip Gloss (Lil Mama vs. The Champs) -DJ Paul V 06-The Tide Is Not Unusual (Blondie vs Tom Jones) -DJ Earlybird 07-Simpsons Theme Remix -Budtheweiser 08-If I ruled Futurama -Dr.Waumiau 09-Vous êtes Seinfeld -DJ BC 10-Land Of The Moonlight-Martinn 11-A Stroll Down Sutter Ave -DJ Wally / DJ Willie Ross 12-Spy Vs Underground (Moloud & The Sonic Destruction vs Brian Briggs) -DJ Useo 13-With A Little Help From Your Hand-The Tweatles 14-If I Needed Someone (Joe White vs Beatles) -MP3J 15-I Feel Right Right Now -DJ BC and The Beastles 16-Dear Lady-EL BARTO AND LIAM B 17-MClennon-GHP 18-Pipes of Peace (JIROB v Paul McCartney) -Jirob 19-Queen Eleanor of Mandolay (Queen Vs. Beatles Vs. La Flavour) -Voicedude 20-Help! A Freak Like Me! (Adina Howard vs The Beatles) -CORPORATION 21-Wrong Board Meeting (Timbaland vs Mims) -Tizwarz 22-Monroseedit -El Barto & Liam B 23-Blonde (SFTCMH's Potassium Remix) -The Electroluvs 24-The Next Collarbone (Dr. Dre & Snoop Dogg vs. Fujiya and Miyagi) - ABX 25-Mi Amour (Jay Z feat Angie Martinez vs White Stripes) -Matt Bland 26-Kill Gwen Stefani (Kill Bill vs. Gwen Stefani) -DJ Whoquestion 27-MaGimme Hell -DJTOPCAT 28-Rap of the Stone Age -DJ ZEBRA ----------------- Bonus Links for those who require that- Download 1 Download 2

June 28, 2008 05:27 PM PDT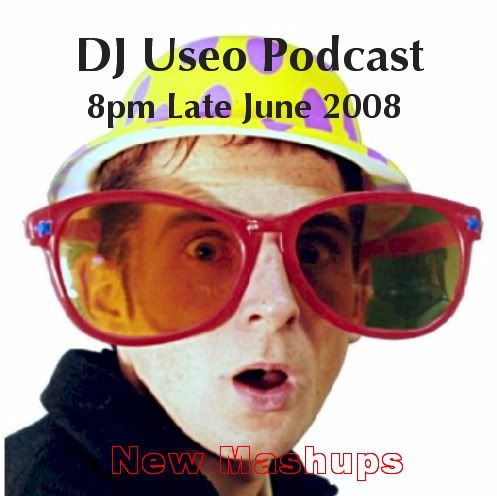 DJ Useo Podcast-8pm Late June 2008 (New Mashups) (1:09:52) --------------------------------------------- MY MOM IS DOING WELL AFTER HEART SURGERY, SO... let's celebrate with a podcast of all new tracks. There's 4 unreleased exclusives. 1 from Alpha1999' 1 from Dottysmash. & 2 from me. The rest are all fresh,new tracks. I hope your summer is going great. --------------------------------------------- 01-Alright For Nothing-Alex H 02-Freaky Undone Hombre (M.I.A. vs. KoRn)-DJ not-I 03-Shut And Boom (Rihanna vs L'Trimm)-King.of.Pants 04-KISS KISS KISS-DJ TOPCAT 05-Black Woman-G3RSt 06-Knocklife (Blur VS Lily Allen)-ComaR 07-Unreleased Exclusive: Astro Strangeness (Full Intention vs Astro Sounds From The Year 2000) DJ Useo 08-Hello Bulldog (Doors vs Beatles) MP3J 09-Bad Karmadrome (First Choice vs Pop Will Eat Itself vs Michael Jackson vs Bloodhound Gang-DJ Useo 10-GDJN exclusive: Shimmy Shafted (DottySmash Guv'nor Promo) (Hijack v Mighty Dub Katz v Utah Saints v Groove Armada v Technotronic v Raze v The Chemical Brothers v Booty Luv v Basement Jaxx v Global Dj's v Armand van Helden v Fatboy Slim v Soul Avengers)-Dottysmash 11-Unreleased Exclusive: Let Da Funk Bite The Dust-Alpha1999 12-D.A.N.C.I.N.G. Round the World-Colatron 13-My Adidas (Run DMC vs. Moby/White Stripes/Weezer)SOOHAN 14-I aint got Daughters- c.h.a.o.s productions 15-boys of 17 dont cry (Eurythmics vs Cure)-Phil Retrospector 16-The Principle Look of Twin Lust #14 (Enigma vs Diana Krall vs Aphex Twin)-Qubic 17-Unreleased Exclusive: Supermagic 2000 Miles (Edwin Starr vs Chris Isaak)-DJ Useo ----------------------------------------- Extra link for those who require that- http://www.divshare.com/direct/10675790-97c.mp3
May 12, 2008 11:24 AM PDT
DJ Useo Intense Psychedelia Podcast
---------------------------------------
My recently released mashup album
INTENSE PSYCHEDELIA
http://groovytimewithdjuseo.blogspot.com/2008/02/intense-psychedelia-
full-mashup-album_11.html
has been enjoyed by many fans of rock mashups.
Still,I think there's lots of people who'd like
to be exposed to it's visceral charms.

So,bear witness to this useo-hosted podcast
that features selected tracks from
INTENSE PSYCHEDELIA
as well as a special final set of tracks that
DO NOT appear on the collection.

I encourage you to
turn down the lights
& crank up the volume.

---------------------------------------

01-Inner Light On My Mind (The Beatles vs Freemasons)
02- Enlightened Mother Of Tainted God (Mahjong Connection f/ Keplero vs Close Lobsters vs Astral Projection)
03-Wake Me Up Gloria Knight (Mahjong Connection vs Plasticland)
04-Oh Yeah Wood Guitar (YELLo vs Poi Dog Pondering)
05-The Bass (Blame It On The Fishline) (Coco vs Yes vs Norman Cook f/MC Wildski)
06-Puttin' On The Panic Kontrol (Ella Fitzgerald vs Psykosonic)
07-Archtecture & Willow Tree ( The Veldt vs OMD)
08-Eden Butterfly (Peter Gabriel vs Iron Butterfly)
09-Take Me Inna Gadda (Iron Butterfly vs 4 Strings)
10-A Day In The Sunshine (The Beatles vs The Posies)
11-Snagglepussy (20 Fingers vs Flowerhead)
12-Come Out & Erupt (Van Halen vs The Mad Violets)
13-Mashing Under Streetlights (The KLF vs The Brains) (+)
14-1999 In The Wind, Pt. II (Prince vs Illinois Speed Press)
15-Doorsklok (Doors vs Dethklok)

------------------------------------

Thanks to Crea for allowing me to talk over his original
synthesizer music.
http://crea1a.multiply.com/
You can hear his tracks-
01-Get Down
02-Shakedown Street
03-Bots2
04-Combat
05-Jhi Def Jorney Thru Lofi
06-Rorge The Robot

Also,thanks to Crea for the GREAT cover.
------------------------------------
April 01, 2008 06:42 PM PDT
DJ Useo
All Comp Podcast (April_1_2008) (1:15)
------------------------------------
This episode features only mashups from
mashup complilations.
Note the unreleased exclusive from
Budtheweiser.
------------------------------------
01-Cartman's Star 69 (South Park vs Fatboy Slim)
Budtheweiser -It Is To Laff (Outtake)
02-English Ghost (Dillinja & amp vs Lemon D vs The Clash)
Instamatic -This One's For Joe: Punk Rock War Lord
03-TheKiller-TeriYaadonMain(ControlMyselfRemix)
Dj Mashup -Rookie Of The Year
04-Golden Lights (Scissor Sisters vs Klaxons)
Copycat -Da-Tah
05-The Way Blast Barrels Are
(Donkey Kong Country 2 vs Timbaland feat. Keri Hilson & D.O.E.)
Norwegian Recycling -Donkey Business
06-(Models Gotta) Fight For Their Right (To Mambo)
(Beastie Boys vs Tito Puente vs Kraftwerk)
RIAA -Risque, Illicit & Adult
07-Temperature Calling 2008 (Falco vs Sean Paul)
DJ Schmolli -Falco re:loaded
08-Shake yr Freak On (Missy Elliott vs Shy FX)
Miss Frenchie -Summer Booty 2007
09-What You Know About Drop Dead Legs (Van Halen vs T.I.)
DJ Axel -Breakin' The Law
10-Cut Off The Temper [Beatsteaks vs. The Prodigy]
DJ Morgoth -Mash-Up Yor Bootz Vol.2
11-Another Way to Dance(Young Love vs Justice vs Daft Punk)
Eamezey -Enzo
12-Lil Mama's Prayer (Bloc Party vs Lil Mama)
Solcofn -September 11
13-Rock On Miniamba (David Essex vs Future Prophecies)
Aggro1 -Exclusive Aggro1!
14-Happy Blue Stole (Moby vs Kelly Rowland)
Andrewherring -The Mysteriose Wurld O' Andrewherring
15-Dream On Lazy Soul (Depeche Mode vs J.B. & The V-King)
Simon Iddol -Forgotten Hits
Bregovic Laws (Beck vs Goran Bregovic)
Overdub -Foolklegs:Folkloric Mashups
16-Come With Us And Shout
(Chemical Brothers vs Tears For Fears vs James Brown)
DJ Moule -Block Rockin' Boots
-----------------------------------------
Thanks to all the talented mixers
who made these tracks.
-----------------------------------------